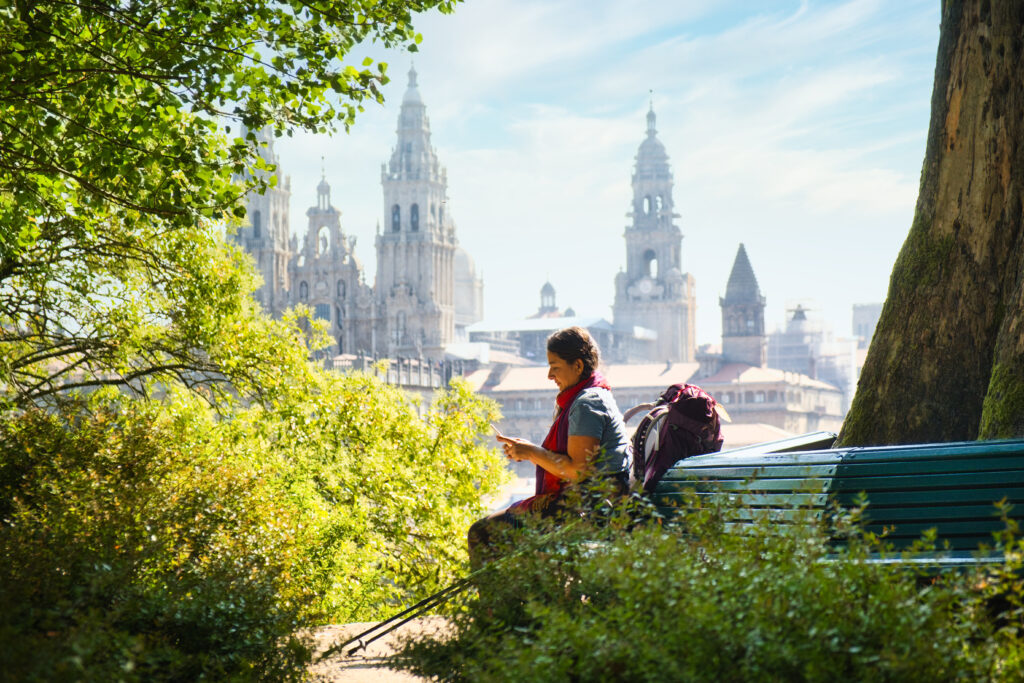 CARMELITE RETREAT-PILGRIMAGE WITH CACS
Pilgrimage is about transformation. It's about making us more like Jesus Christ. This is what both Saint Teresa and Saint John of the Cross set out to do in their writings such as Teresa's Way of Perfection and John's Living Flame of Love. Indeed, there's no more powerful way to understanding their life transforming teaching than by experiencing their world first-hand. Likewise, pilgrimages to the Holy Land bring the Bible alive in an absolutely unique way.
On each day of the retreat-pilgrimage there will be a planned itinerary in the mornings, involving powerful presentations from the retreat leaders designed to integrate all you're experiencing into your interior life, followed by a guided visit to a place of interest in the environs. During our time together we hope to explore various themes which arise from the scriptures or our saints' writings whilst placing them in the unique setting within which we find ourselves.
Our retreat-pilgrimages will not leave you the same! Demand for places on has been high in the past so email admin@carmelite.org.uk for more information for the two planned for 2022.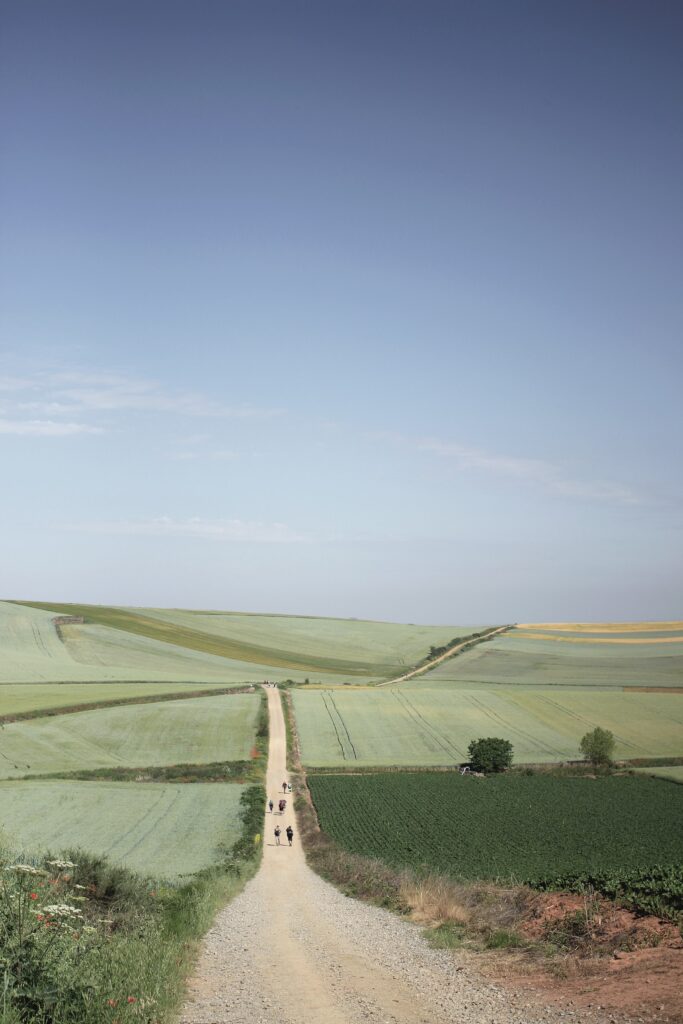 Why go on our retreat-pilgrimage? They're simply unique!
You'll spend time learning and praying and return refreshed and enriched
You'll visit all the holy sites related to the mystery of Christmas and pray each Mystery on-location as a group for our Chrilsmas pilgrimage
You'll experience first-hand the world of Teresa and John and gain insights to their teachings in a unique way
You'll receive nightly uploads of "Pilgrimage Videos" so family and friends can follow your pilgrimage
You'll have a scripture scholar and a expert in Carmelite spirituality along to bring the Bible to life at every site as well as the wisdom of Saint John of the Cross on the mystery of the Incarnation?
You'll return home longing for more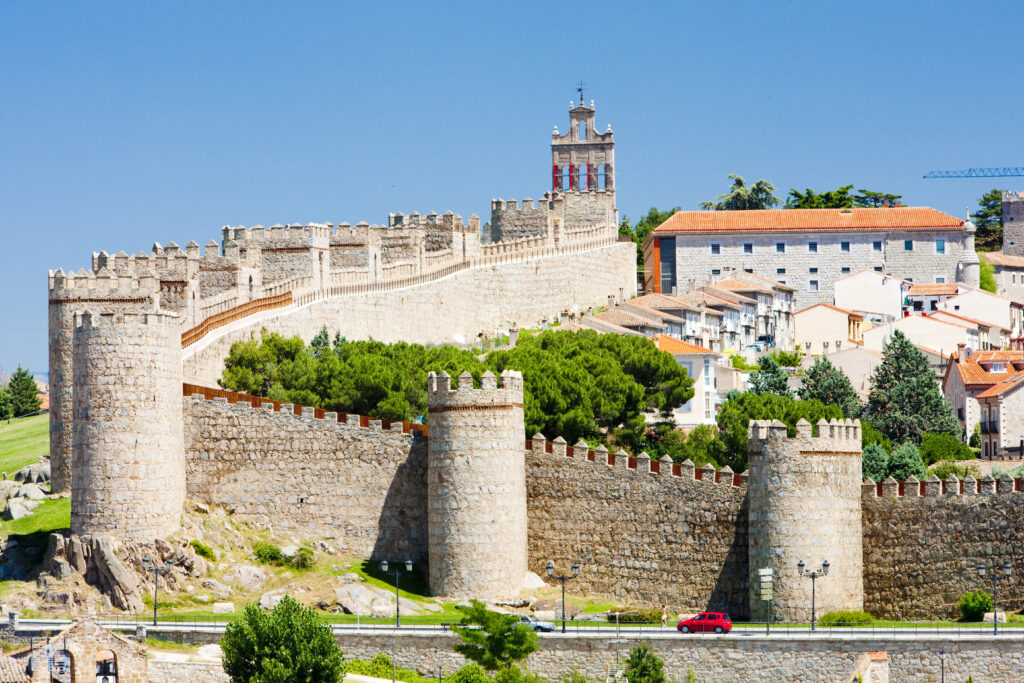 AVILA, SPAIN – "In the Footsteps of Teresa of Avila": Celebrating the 400th Anniversary of her Canonization 23rd – 30th October 2022
(FULLY BOOKED – REGISTRATIONS CLOSED)
Carmelite Retreat–Pilgrimage at "The House Where Saint Teresa of Jesus was Born"
based on the writings of St Teresa of Avila
We are delighted to invite you to share 8 days together in the company of Teresa of Avila in the places most associated with her life and work in Castille: Avila, Burgos, Salamanca, Segovia, Toledo and Valladolid. Our retreat-pilgrimage shall take place at the Casa Natal de Santa Teresa de Jesús within the walls of the old city of Avila.
Led by Fr Matt Blake, OCD and Fr Kelvin Ekhoegbe, OCD
For Further Information please see below brochure or contact us at admin@carmelite.org.uk
Avila Pilgrimage

Including Flights

£150 (optional non-refundable deposit)
£1191 (double occupancy full payment)
£1223 (single occupancy full payment)
Avila Pilgrimage

Excluding Flights

£150 (optional non-refundable deposit)
£998 (double occupancy full payment)
£1030 (single occupancy full payment)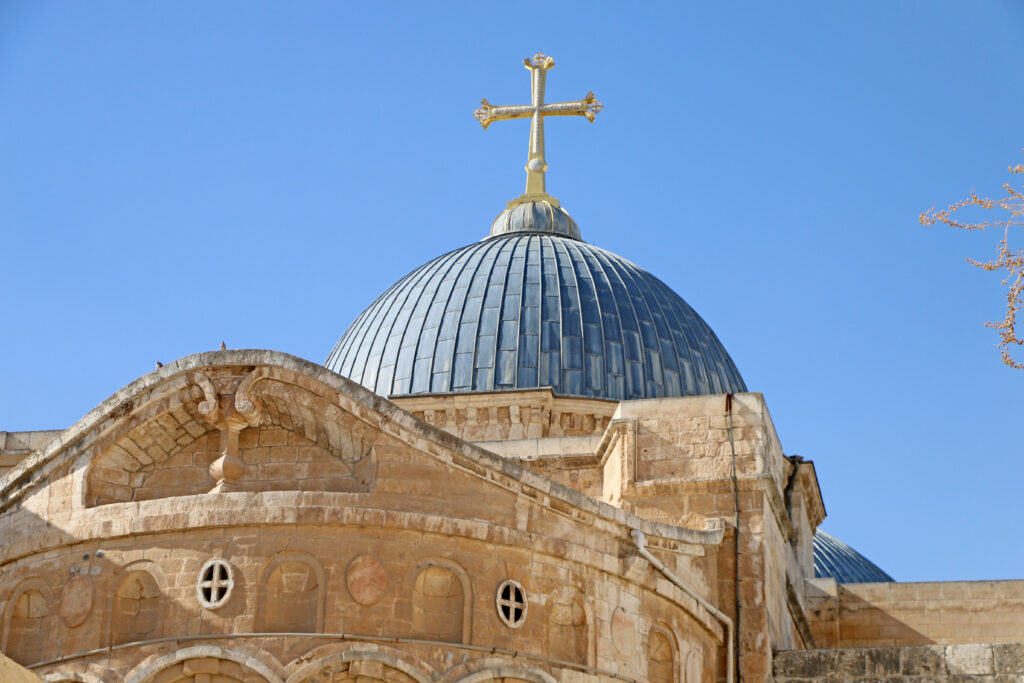 ---
HOLY LAND – "In Bethlehem for Christmas with St John of the Cross"
21st – 27th December 2022
Carmelite Retreat–Pilgrimage In Bethlehem for Christmas
Reserve your place now on our special 6 nights Retreat-Pilgrimage in the Holy Land. We will share 7 days together learning from Israel's prophets and St John of the Cross in the places most associated with the birth of Christ and his ancestry in the Holy Land: Jerusalem, Hebron, Ein Kerem, Nazareth, Bethlehem, and Er-Ram.
Led by: Fr Matt Blake, OCD and Fr Alex Ezechukwu, OCD
For Further Information please see below brochure or contact us at admin@carmelite.org.uk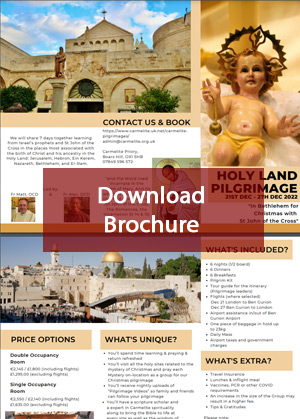 Holy Land Pilgrimage

Including Flights

£150 (optional non-refundable deposit)
£1800 (double occupancy full payment)
£2140 (single occupancy full payment)
Holy Land Pilgrimage

Excluding Flights

£150 (optional non-refundable deposit)
£1295 (double occupancy full payment)
£1635 (single occupancy full payment)
Please feel free to download a copy of our poster for further details: